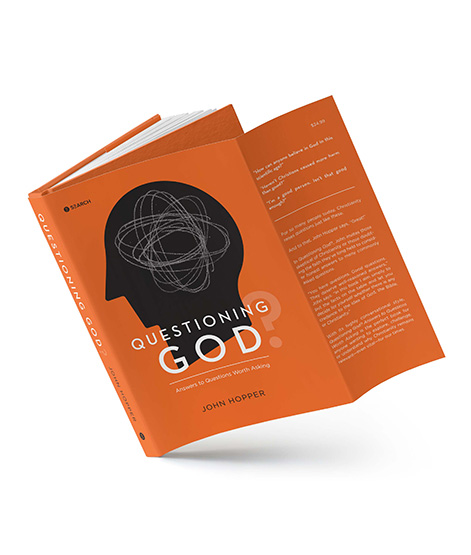 Questioning God? makes a compelling case for the Christian worldview, showing how philosophy, history, psychology, and science point toward the truth of the gospel. It doesn't dodge the hard questions, wrestling with many of the most nettlesome objections raised by skeptics. This book is practical and to the point, filled with common-sense illustrations, and it's sure to help any open-minded thinker take steps closer to God.
I was an aggressive spiritual seeker for most of my life and eventually stopped my search when I found Christ at the age of 33. I had many questions and doubts about God and endured an arduous journey to get the answers that made sense to my analytical mind. This book contains the answers I wish I had heard as a younger man on my path to truth. It has been said that Christianity is often tried but rarely tested. Questioning God? applies evidence-based research and deductive reasoning (the only kind that makes sense to me) to test the Christian worldview, and the results are compelling and transformational.
If you are a "Why" person regarding the Christian faith—this is a must read. John Hopper's Questioning God? is a 5-Star resource for both doers and doubters; seekers and skeptics. It will help you reason critically, react transparently, and respond purposefully. Hopper is right: there are answers to questions worth asking.
John Hopper's Questioning God? is a delightful book that fills an important need in today's apologetical literature. In a unique way, Hopper's book is . . . important and useful for these reasons: (1) It is written in a very laid-back, inviting conversational style. (2) It is specifically written as a provision of answers to fifteen specific and important questions frequently raised in discussions of Christianity. (3) While useful to believers, its particular audience is unbelieving seekers and Hopper clearly understands this audience. Thus, his book helps a believer to share his or her faith by using the book as a resource or handout. I am optimistic about the impact of Questioning God? and am glad to have it in my own toolbox.
In his book, Questioning God?, John Hopper has looked at the big questions about God with a fresh set of eyes and in a manner that is very informative but very conversational. I couldn't put it down. I can't wait to share it with friends and look forward to hearing stories of great conversations!
Questioning God? provides a real opportunity for the reader to think through big questions regarding their spiritual beliefs. John's ability to use plain language and common sense in a thoughtful way is reflected throughout this book. If you are a skeptic, seeker, or candidly a believer who has some real questions regarding God, this book hits the target!